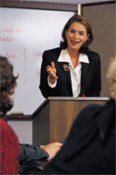 Video Services
Click a link below to find out more about our services:

Training tapes are a cost convenient way to send a consistent message to many, anytime. A training or educational video is most effective when there are company procedures to demonstrate step by step. Some training videos can easily be re-purposed to CD-ROM or DVD training or presentation.

Electronic media has become the method of choice for communicating to personnel in areas of training, safety, and marketing programs in both large and small firms. We will build a strong product message for internal communication and sales presentations. We can custom design for VHS tape distribution or design it for interactive format via the internet, intranet, laptop CD-ROM, or DVD.

Whether it may be equestrian video, sporting event, recital, etc,. AVP will produce it for you. We take ownership in every project, from start to finish. We can handle marketing and customer opinion taping as well as "man on the street" interviews. We understand our client's needs and quickly respond through a strategic, problem-solving methodology.

We are capable of handling the simplest deposition to the highly confidential. Our state of the art equipment includes 3-chip cameras and balanced microphone systems along with in sync capabilities with the court reporter. We assure you of professional quality result for legal purposes.

Video clips are being shot and incorporated into interactive training, learning, and education. Multi-platform CD-ROMs or DVDs use video clips that integrate with interactive learning. CD-ROMs/DVDs combine text, graphics, audio, and video to provide a wealth of easily accessible information.
---
Home Services Media Types The Production Process Contact Us

© Copyright 2003 Arlington Video Productions
Site design by CrimsonDryad Web Design Services